Prayer for the Jubilee of the Order
The Order of Preachers is preparing for the Jubilee celebration on the occasion of the 800 years of its approval. As Dominicans, we know that prayer is essential to enter into the dynamics of renewal and metanoia to which the Jubilee celebration calls us. For this reason, we would like to invite all the Dominican family to join in the praying of the Jubilee prayer, which is translated in different languages on the Jubilee website. (http://www.op.org/en/jubilee/prayer).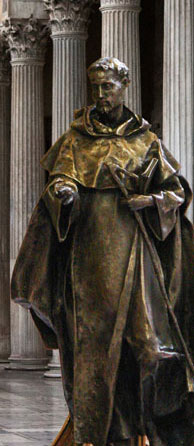 God, Father of mercy,
who called your servant Dominic de Guzman
to set out in faith
as an itinerant pilgrim and a preacher of grace,
as we prepare to celebrate the Jubilee of the Order
we ask you to pour again into us
the Spirit of the Risen Christ,
that we might faithfully and joyfully proclaim
the Gospel of peace,
through the same Jesus Christ our Lord.
Amen.
It would be ideal, if each convent, home, community and fraternity of the Order is in communion with the entire Dominican family around the world through a unified praying of this common prayer.
On the same page you can find a bookmark with the Jubilee prayer in the three official languages of the Order. The Dominican communities who would wish to download this bookmark and produce copies for all those who would like to join in are encouraged to do so.
In particular, we request the local promoters of the Jubilee to distribute this bookmark among the communities and invite the members of the Dominican family to share this prayer with others. Should your region speak another language, we welcome your translation of this prayer and we will very well appreciate to receive a copy to share on our website through our e-mail: iubileum2016@curia.op.org.
(25 March 2014)